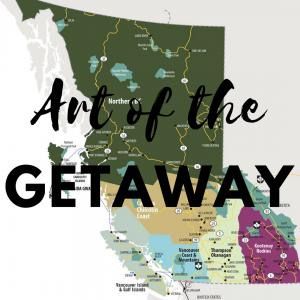 What is the Art of the Getaway? It's an early morning coffee on the balcony overlooking sprawling vineyards in a local B&B and it's a community art walk where we felt like a local. It's the first and last bite of a meal prepared with local ingredients in a wharf-side restaurant, and the perfect spot on the beach distilled in a painting at the local gallery. Use Art-BC.com and experience all The Art of the Getaway has to offer.
Browse our #SuperCultural Regions
Under our Creative Communities tab, you can discover the communities within your favourite regions.  From Greater Vancouver, known to be one of the best places to live in the world, to The Cariboo Chilcotin Coast where outdoor adventures are king, there are so many special places within our regions that embody the vibrant creative spirit of BC. For wine connoisseurs, you can visit our Thompson Okanagan tab to discover desert-inspired artworks and the region's many vineyards. Or you can take a look within our Northern BC tab to discover the communities where the northern lights decorate the sky. Use our site and discover the heritage and culture of the British Columbia, all through our Creative Communities tab on Art-BC.com.
Read our Blogs and Check out the Interactive Online Print Guide
Since 2015, Art-BC.com has been posting interactive blog entries under our News section which serve as a reference for all of our Art-BC recommended destinations within specific #SuperCultural Creative Communities. If you're looking for ideas to plan a whole weekend of exploration in a community, use our blogs posts to guide your adventure. If your community hasn't been featured on our blogs page, you can check out our interactive online print guide! The Art Guide has been in print for more than 19 years and it has helped connect the culturally curious with the best of BC's arts & culture. Satisfy your cultural wanderlust and discover the best of BC from anywhere with our print and online guides. Stash a copy of the printed guide in your travel bag or glove box as your travel companion to BC's prime cultural experiences. Each of our participants have our Art-BC RECOMMENDED guarantee – our way of ensuring the guide offers only the choicest cultural experiences in the province and like our blog posts, our interactive guide features an extensive list of Art-BC recommended destinations for each community, and it serves as a perfect start for you to create your self-guided adventure.
Click the Events & Explore Button
British Columbia's festivals, events, and studio and walking tours are as diverse as its geography and residents. Festivals range from Shakespeare's Bard and experimental dance to local craftwork and visual arts. For music fans, there are events showcasing all genres: classical, jazz, classic, indie rock, bluegrass, and everything in between. Check out our Explore tab to learn more about the Art-BC RECOMMENDED destinations that fall under categories like Aboriginal Culture, Walking Tours, and festivals & events.
We hope that we've sparked your interest into what the Creative Communities of BC have to offer. The Art of the Getaway is all about making your own unique memories whether you're visiting BC, or looking just looking to plan a stay-cation. Using our site and staying like a local will help you truly experience the Art of the Getaway in #SuperCultural BC.