No matter where you look, it is easy to see why we value the arts in BC. Whether you find yourself walking quietly, surrounded by mountains, through marshlands of the Fraser Valley, or atop the highest peak, overlooking glacier lakes and remote wilderness. Whether you are sitting seaside or ambling through a sloping vineyard – one thing is clear if there is anywhere in the world for creative inspiration to come from, British Columbia is a prime destination for Arts and Culture.
Imagination plays a role alongside the awe-inspiring views of this #Supercultural province. Exploring just one Creative Community you are bound to discover adventure, off-the-beaten-path experiences, unique historical places, Aboriginal history, art and culture, uncanny culinary delights, and more. There is an endless array of memorable experiences to be had when you dig into the Arts in BC.
BC's Guide to Arts & Culture is the definitive guide to local, authentic experiences in the province.
Featuring: Creative Communities in BC,  Artful Getaways,  Best Annual Festivals & Events, Artists Studios, Galleries, Heritage Sites, Aboriginal Culture, Theatres, Art Walks, & More
Click on the guide to read the latest edition on Issuee!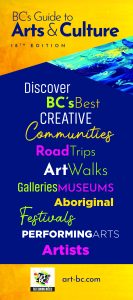 Each of our participants receive our RECOMMENDED guarantee – our way of ensuring the guide offers only the choicest cultural experiences in the province. If you spot an Art-BC Recommended sticker in the window or doorway of our participants, it's your assurance that you'll have an authentic cultural experience.
The Art Guide is printed every two years and can be found in over 600 locations across the province. Pick up your copy at Visitor Centres, Heritage Sites, Museums, Galleries, Cultural Centres, Hotels, BC Ferries, or at the locations of any of our participants.

Satisfy your cultural wanderlust and discover the best of BC from anywhere with our print and online guides. Stash a copy of the printed guide in your travel bag or glove box as your travel companion to BC's prime cultural experiences.
Past Issues
The Art Guide has been in print for more than 15 years. Over the years our mission has been to connect the culturally curious with the best of BC's arts & culture. Check out our archive of past issues here.
Click here to view past issues.