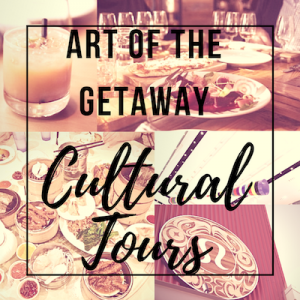 The Art of the Getaway is more than a tourist-trip, and it's more than a vacation. It is creating a lasting impression of the community, whether you're a resident or a visitor. If you're looking for something different, try an authentic and active guided (or self-guided) tour. You'll be surprised by what you discover and experience, whether it's fine food and wine, artist studios, or a historic adventure.
Bustling since the late 19th century, Vancouver's historic Chinatown has been rich with vivid colours, exotic cuisine, and vibrant Chinese culture. One of Vancouver's last remaining distinct cultural neighbourhoods, Chinatown is home to an increasing number of emerging chefs, artists, and small businesses. Join A Wok Around Chinatown and start your historic Chinatown adventure by strolling through a symbolic Classical Chinese Garden, viewing historical landmarks, meandering through diverse specialty food, cookware, art and herbal medicine shops, savouring a delicious dim sum lunch, and visiting a colourful Taoist Temple. With expert guides, and authentic culinary experiences, this tour is truly unlike any other.
Vancouver Food Tour's guided culinary tours showcase the best restaurant gems in Vancouver's most vibrant neighbourhoods and beyond. Unlike other tours, they lead you away from tourist traps instead of towards. Through a passionate team of local food and drink experts, Vancouver Food Tour will entertain guests on the delectable and informative tours with culinary professionals as your guide. With progressive dinner menu that focus on local, seasonal, and sustainable fare, including BC wines, craft beers, cheeses and charcuterie, seafood, and much more, this tour is perfect for guests that love food, city exploration, and desires to taste Vancouver from a true local's perspective.
Only minutes from downtown Vancouver, Park Royal is nestled between the mountains and the beach in beautiful West Vancouver. Uncover the beauty of this Creative Community through a self-guided tour around Park Royal using their interactive map. More than just a shopping Centre – Park Royal offers a wonderful array of West Coast, Canadian and International Art. Follow the map and the legend provided to guide you and enjoy!
Mount Pleasant Self-guided Walking Tour
Mount Pleasant was one of the very first neighbourhoods developed in the city of Vancouver. With lively coffee shops, bistros, trendy boutiques, galleries, and much more, this walking tour can help you discover all the amazing attractions and adventures that make the Mount Pleasant area. Download the Mount Pleasant Walking Tour app and turn your mobile device into your own personal tour guide.
Whatever your passion, these guided tours will get your blood pumping, your mind engaged, and all five senses energized by the scent, sound, and pulse of a place. Enjoy experiencing first-hand the art and culinary delights of several Creative Communities through this week's Art of the Getaway feature.