Advertise in the only comprehensive guide to BC's Creative Communities.
BC's Guide to Arts & Culture is the only definitive, full color, year-round guide to BC's arts, culture, and heritage destinations. The Guide's online counterpart, Art-BC.com, serves as an online directory that focuses on marketing each of our partners as an important cultural destination within their community. Becoming a member of Art-BC.com's online directory and participating in BC's Guide to Arts & Culture increases your visibility to a target audience – identifying you as an important part of the arts & culture experience within your community.
– Each publication produces 75,000 printed guides that are available for FREE to BC residents and Visitors at over 500  locations across the province
– Low advertising cost! Our advertising rates haven't changed in 15 years.
– Free, value-added extras including building of an attractive online listing (where you can showcase your products/services with images, video, maps, etc.), promotion of your events/products/services via our large social media network, and more.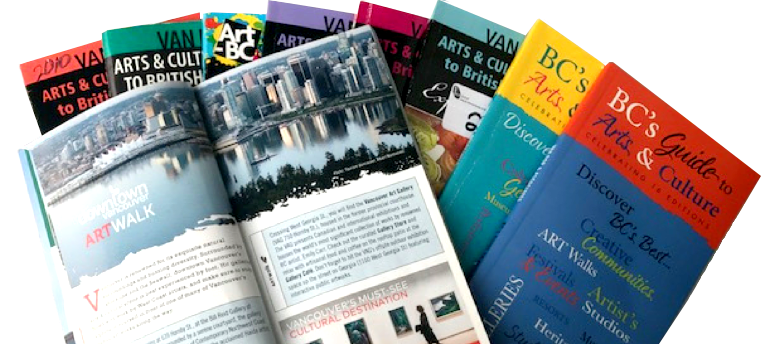 – Our bi-annual guide is retained and referred to by customers for an average of 3 to 5 years
– Visually appealing an easy-to-use, the only comprehensive Arts and Cultural resource in British Columbia
– Affordable, community based, collaborative marketing that highlights you within your creative community and your category
– Promotion of your top 3 events in our Exhibitions, Festivals/Markets or Art Walks section
– Promotion through our Social Media Program. We engage daily with over 35K followers on all social media platforms.
Additional advertisement opportunities
– Sponsor and highlight your cultural entity and its events in our weekly newsletter (seen by over 10k subscribers)
– Host a "takeover" on the @artbcguide Instagram page
– Banner and side bar ad box opportunities on the Art-BC.com
For more details on our reach + visibility visit our MEDIA KIT
Talk to our team about advertising in the print, online, and on our social media channels.