When you think of British Columbia, what  is the first thing that comes to your mind?
Most people would answer nature. British Columbia's majestic mountain ranges and stunning pacific coastline are breathtaking. But it also has something else that might surprise you: A rich, diverse, artistic community.
There are countless art events for you to enjoy during your time and even more original artists whose work you need to see.
Meet The Artistic British Columbia
What better way to spend your time than on an artistic adventure where you get to see the creativity of Vancouver's North Shore?
Is there a better way to spend time than on a artistic adventure experiencing the  creativity of….
While on this free trip, you'll enjoy the creative and inspiring works of four of our neighborhoods, then stop at the art trail at Park Royal.
Art has always been a symbol of human perseverance and grit, and this gallery is an example of that. It's a creative space that envisions energy independence and human resilience in the face of climate change.  
The Nelson International Mural Festival is an event where both local and international street artists, muralists, creators, and art enthusiasts come together.  Featuring large-scale public artworks, discussions on  local cultures, and more. Hosted by the Nelson and District Arts Council to  strengthen  relationships with the artistic community .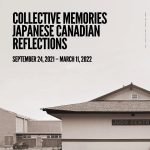 COLLECTIVE MEMORIES: JAPANESE CANADIAN REFLECTIONS | Kamloops Museum
This exhibition showcases the perspective of the local Japanese Canadian. The objects in this exhibition capture the group's collective voice  telling the story of their memories, reflections, and struggles.  Art is the ideal medium to share your story. This exhibition  provides access to the stories of a community you may be unfamiliar with, told from the perspective of the Kamloops Japanese Canadian Association's members. 
You can't go on an art trip and leave without viewing this masterpiece! The Jade Canoe is widely considered to be the masterpiece of Haida artist Bill Reid. It's the central point of the Vancouver International Airport.
It showcases 13 passengers riding a canoe.  These passengers are a diverse group consisting of men, women, animals, and mythical Haida creatures. It symbolizes the interdependence of the creatures who cohabit earth. The elements of nature that the Haida people depended on for their survival.  
There's something magical about this sculpture. Travelers often stroke it for good luck. Try it yourself. Who knows, you might get lucky!
SPOTLIGHT
SPOTLIGHT is a collaborative effort of the Art Rental & Sales Program (AR&S) and the Curatorial Department of the Vancouver Art Gallery to support emerging artists based in British Columbia.
They launched the project by showcasing  Sandeep Johal, an artist who creates colorful geometric art with stunning linework inspired by her South Asian heritage. Support her and the other artists today!