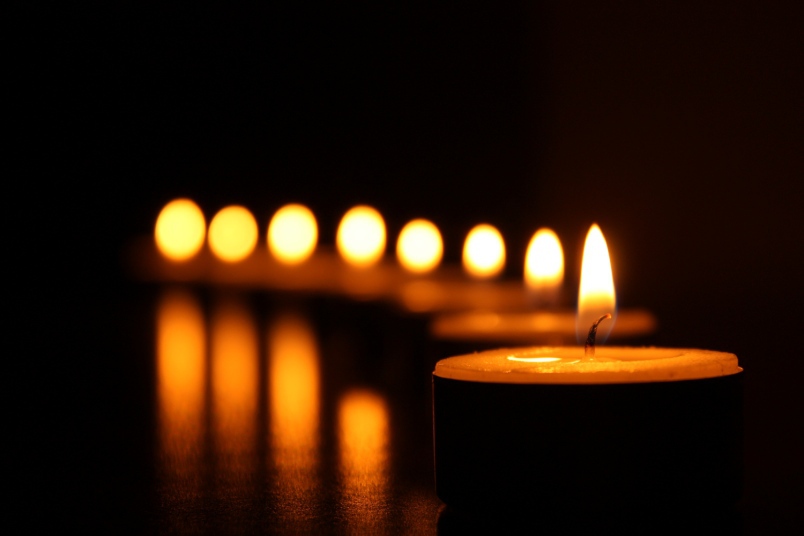 Author: Julie MacLellan
Source: Burnaby Now  
I started to write my usual end-of-year post, in which I salute those who've made a difference on the local arts scene over the previous 12 months, and I found myself strangely at a loss for words. What I wanted to say seemed too frivolous, too inconsequential a way to wind up a year that has felt, in many ways, so heavy.
Even the brightest Christmas lights can't dispel the darkness that seems to have fallen on our world in 2017. The enforced gaiety and sparkle of the season seem jarring against a backdrop of omnipresent social turmoil and political unrest.
On and on and on it goes, as humankind slowly kills the planet, makes war on those who hold different views and generally proves itself incapable of changing its ways to stave off the world's inevitable destruction. We can festoon the season with tinsel and wrap it in twinkling lights, but we can't make this darkness go away.
And yet.
Yet, in the midst of it all, buried in the jangle and glitter and jollity of the holiday season, there it is, refusing to let us give up, refusing to let us succumb to cynicism, refusing to let the darkness win.
Hope.
It's such a simple word. But it urges us to remember that in the midst of all the darkness there was good news in the world this past year. There were hate rallies but there were women's marches and peace rallies too – gatherings that spoke eloquently of humanity's desire for good to win. There was Donald Trump, but there was also Angela Merkel. There was Harvey Weinstein, but there were also the Silence Breakers.
Hope isn't so hard to find when you start to look.
You don't need to find it in the headlines. Find it in the kindness of a stranger who holds the door for you at the coffee shop. Find it in the delight of a child transfixed by Christmas lights. Find it in the glow of the Advent candles on your own kitchen table.
You know where I find hope, most of all? In song.
Song, for me, means the Amabilis Singers, the 65-voice community choir I'm part of (and with whom I'll be singing this weekend in our annual Christmas concert). It means director Ramona Luengen and pianist Ingrid Verseveldt, two remarkable women whose musical talent is exceeded only by their generosity in sharing that talent with others – and inspiring the rest of us along the way.
But it's more than that. Though singing has always been my personal passion (I'm of the Buddy the Elf school of thought that believes "the best way to spread Christmas cheer is singing loud for all to hear"), I find hope in all the arts – in theatre, in dance, in visual arts, in the written and spoken word.
Hope, for me, comes from each and every one of you whom I had the privilege to deal with and write about over the past year in my job on the arts beat.
It comes from you, the movers and shakers who made art happen in so many ways: Stephen O'Shea and Leanne Ewen and everyone with the Arts Council of New Westminster; Teena Martin and Dave Handelman and Bill Thomson and everyone with the Burnaby Arts Council; Ellen van Eijnsbergen and Jennifer Cane and the rest of the Burnaby Art Gallery team; Susan Greig at 100 Braid Street Studios; Trudy Van Dop at Van Dop Gallery; Jessica Schneider and Andrée St. Martin at Massey Theatre and Plaskett Gallery.
It comes from you, the directors and producers and teachers who make performance dreams reality: Peter Jorgensen, Katey Wright, Nancy von Euw, Ellie King, Valerie Easton, Jack Trovato, Camilla Fishwick-Kellogg, Carol Mann, Trevor Found. The list goes on: Frances Monteleone, Kelly Proznick, Steve Clements and Lindsay Waldner and the amazing team behind NWSS's musical theatre program; Julian Legere and Michelle Cyr, who bravely launched a new theatre company with a feminist message in a year that so desperately needed to hear it.
It comes from you, the poets and writers who bring the written and spoken word to life: Candice James and Janet Kvammen and Alan Hill and Nancy Duarte and Susan Pieters and James Felton and Nasreen Pejvack and Alan Girling and Elizabeth Elwood and everyone in the ranks of the Royal City Literary Arts Society and Burnaby Writers' Society who helps the literary arts to flourish in our communities, every day.
It comes from you, the performers and artists whose names and faces have graced these pages over the past year: Keira Jang, Daisy Hulme, Ali Watson, Avril Brigden, Madeleine Suddaby, Lori Watt, Emma Ciprian, Henry Beasley, Colleen Winton, Colton Fyfe, Katie Purych, Russell Roberts, Cassius Khan, Amika Kushwaha, Synthia Yusuf, Caleb Lagayan, VanDeca, Emily van Lidth de Jeude, Quayside Voices, Melanie Adams, Elizabeth Irving, Robb Schinnour, David Adams, Warren Kimmel  … and the list goes on and on and on.
You, all of you – those I have named and those I have inevitably left out – are the reasons why I have hope. Because in a world where you exist, you music makers and dreamers of dreams, the darkness will never win.
In the year ahead, the world will need artists as it has never needed them before: to shine in the darkness, to make us laugh and cry and think, to ask life's unanswerable questions, to help us find meaning, to call us to action, to allow us to believe in the impossible, to strive for a better world, to tap into the deepest and truest parts of us and bind us together in shared humanity when the world is at its most bleak.
That's what the world needs.
That's what artists do.
And by "artists" I mean all of us – not just those who get paid to make art, not just those whose names and faces make it into the newspaper, but every single last one of us. Find the art in your soul and let it glow this year. Sing. Write. Paint. Draw. Dance. Sculpt. Create.
You may not have megawatt star power. Your one tiny candle may not cast much light into this vast dark world of ours. But your small candle next to mine, next to his, next to hers, next to theirs, and on and on and on and on until our tiny flames circle the world? Together our collective glow will keep hope shining, even as the world is battered by divisiveness, bigotry, terror, hate, violence, war.
The thing is, I was wrong. Writing about the artists among us isn't frivolous or inconsequential.
It's important. It's meaningful. In fact, it's essential – especially in a world that, now more than ever, is in desperate need of hope.
Peace and blessings of the season to you and yours.
– Julie