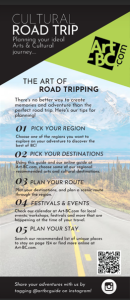 From the winding coast, to the Rocky Mountains, a road trip in British Columbia promises an unforgettable experience. With BC's Guide to Arts and Culture in your glove box and the mobile guide on your phone, you'll experience the art of the road trip.
It is no surprise that BC's arts and cultural sector is a thriving and diverse community. Artists and cultural producers draw inspiration from the beauty of British Columbia's geography. BC's Westernmost communities are surrounded by the Pacific coast while further East, the Rocky Mountains rise and fall with stunning pinnacles and lush valleys. You can surf and ski in a matter of hours, traverse dense rainforests, discover waterfalls, lakes, glaciers, beaches, and sprawling valley vineyards. Wherever you begin, your road trip planning in BC is guaranteed to include unmatched beauty and the unique cultural vibe of local communities in every region of the province.
Whether you begin or end your road trip across British Columbia with exploring Vancouver Island, the Island is a remarkable place to spend 3-7 days discovering the unique communities along the East and West coast of the island. Experience history, aboriginal culture, unique farming, coastal vibes, great food, and a plethora of galleries, artist studios, outdoor adventure and must see cultural sites all across the island.
Whether on your way back to the mainland, or en route to Vancouver Island, a stopover in the Gulf Islands is a must. The Gulf Islands are a series of small island communities with a population of artists and artisans that have created a distinctive laid back local ambience. The experience of island time will overtake you as you explore galleries, art hubs, markets, studios, and small scale businesses.
On the Mainland, BC's highways lead in the direction of five distinct regions, each with their own geography, history, climate and culture. Southwest – Vancouver Coast and Mountains
Discover diversity in the Southwestern part of the province where metropolitan centers stretch into lush rural valleys. Encircled by the Pacific Ocean and the soft, snow capped peaks of surrounding mountain ranges, an inexhaustible wealth of arts and cultural experiences and outdoor adventure are at your fingertips. From Vancouver and Whistler's major galleries, performance centers and museums, to the rural artisan shops and studios in the Fraser Valley, there are artists around every corner. Markets and festivals run throughout the year and are a centralized hub for many local producers. Plan your itinerary from Whistler to Agassiz as you head toward the mountains once again.
Southeast – Thompson Okanagan
Home of peaks and valleys, deserts and glaciers, the Thompson Okanagan is a sprawling region of agricultural bounty, artisnal craft, and outdoor adventure. Discover laid back lakefront communities, desert vistas, ski resorts, and wineries, orchards, galleries, studios, heritage sites, museums, and more in this popular tourist destination. Experience rural life and stay on a ranch in the Thompson Valley, or if luxury wine and dining is your mood, choose a resort stay in the Okanagan Valley. For a laid back, quiet experience of art, craft and nature, explore the Similkameen Valley. Looking for a rustic experience? Track with the Kettle Valley trail into Boundary Country, home of delightful small towns and plenty of rugged outdoor adventure.
Southeast – Kootenay Rockies
In the heart of BC's mountain ranges is the region of the Kootenays. It's a perfect addition to your road trip across British Columbia. The Kootenay Rockies region is home to four significant mountain ranges—the Rockies, Purcells, Selkirks, and Monashees. Seven national and provincial parks and more than 75 provincial parks of the Kootenay Rockies region feature alpine adventure and exploration on a world-class scale. The trails, alpine valleys, meadows, waterfalls, crystal lakes, and peaks of the Kootenay region have a rugged cultural heritage. Life and art are interconnected with a distinct Kootenay vibe. Galleries, museums, heritage sites and plenty of small-town local shops add interest to the wild, natural experience of this region.
Central – Cariboo Chilcotin
Follow the Gold Rush Trail into the heart of BC's mid-country, home of BC's famous Barkerville – a historic gold rush town where performers take you back in time. The limitless sprawl of the Cariboo has given rise to a unique culture steeped in history and tradition of both settlers and aboriginal cultures, rich with practiced craft, agricultural roots and natural resources. The towns and communities in the Cariboo are defined by a distinctive pastoral sensibility where homesteaders, ranchers and locals live in harmony with the natural surroundings. From grizzly sightings to long rides on horseback, you'll discover the Cariboo is a world of its own.
North – Northern BC
Extending to the furthest reaches of the border of Alaska, and sprawling from the West Coast to the Eastern border of Alberta, BC's North has both coastal and mountain terrain. Rugged coastline and untouched wilderness give way to glaciated valleys and volcanic mountain peaks in this vast region. Along the Westernmost border of the region, is the UNESCO protected Heritage Site at Haida Gwaii – a world renowned and preserved piece of ancient aboriginal culture and a premier example of the life of the First Peoples. Staggering wilderness and wildlife abound in this sparsely populated area of the province, you are likely to experience sightings of truly Canadian animals like the Moose, Caribou, and Grizzly as you travel the pristine wilderness. Along the way, in addition to breathtaking natural surroundings, you'll discover how the vastness and intact wilderness of the North has inspired its artists and craftspeople.
Roadtripping across BC is a one of a kind experience. Using BC's Guide to Arts and Culture, broaden your experience in each of BC's Creative Communities by adding recommended destinations to your itinerary. The wilderness, the people, the communities and the heritage coupled with the unmatched natural beauty promise an unforgettable experience no matter which road you travel.
Every community has its own unique cultural footprint.
Please come back to visit this community as we are curating content and destinations throughout the Province of BC. If you or your organization wish to be presented on this page, we invite you to become a Marketing Member