With over 32k social media followers and 10k subscribers, advertising with Art-BC.com gives you greater reach to expand your audience throughout the region and beyond.  We make your investment count, providing concentrated, targeted advertising across digital and print platforms.  These connections not only provide organic growth online but also help keep your organization connected to the broader conversation about the arts in BC.
With an SEO targeted website, we maximize your opportunity to be seen by a wide cross section of online visitors (travellers, visual and performing art lovers).  Through our social media channels, we provide powerful traction to promote up-to-date, dynamic content; making you more visible online.  The exponential growth of our Instagram following continually reaps rewards, creating organic content that continues to expand the audiences of our participants.  Twitter and Facebook provide valuable opportunities to share and connect with new audiences, keeping our audience up-to-speed on the events and shifts in the BC art world.  With over 32k followers, we ensure your message is seen, shared and successful.
In addition to our social media content and website, our reach extends to the 10k subscribers of our weekly Weekly Arts Digest and Quarterly  Curated Community Newsletter.  The Digest provides the opportunity to share in-depth profiles across our categories or membership regions, linking participants with their craft and communities.  Through curated communities, we profile the unique cultural footprint of regional hubs, giving the local's view and inside scoop for an audience that is eager to explore the arts across our province.
Across all digital and print platforms, including the bi-annual Guide to Arts & Culture, we provide visually and graphically impressive content that continues to capture the attention of audiences from far and wide.
Interested in sharing your mission and events with a broad local, regional and international audience?  Join us.  Let's start the conversation!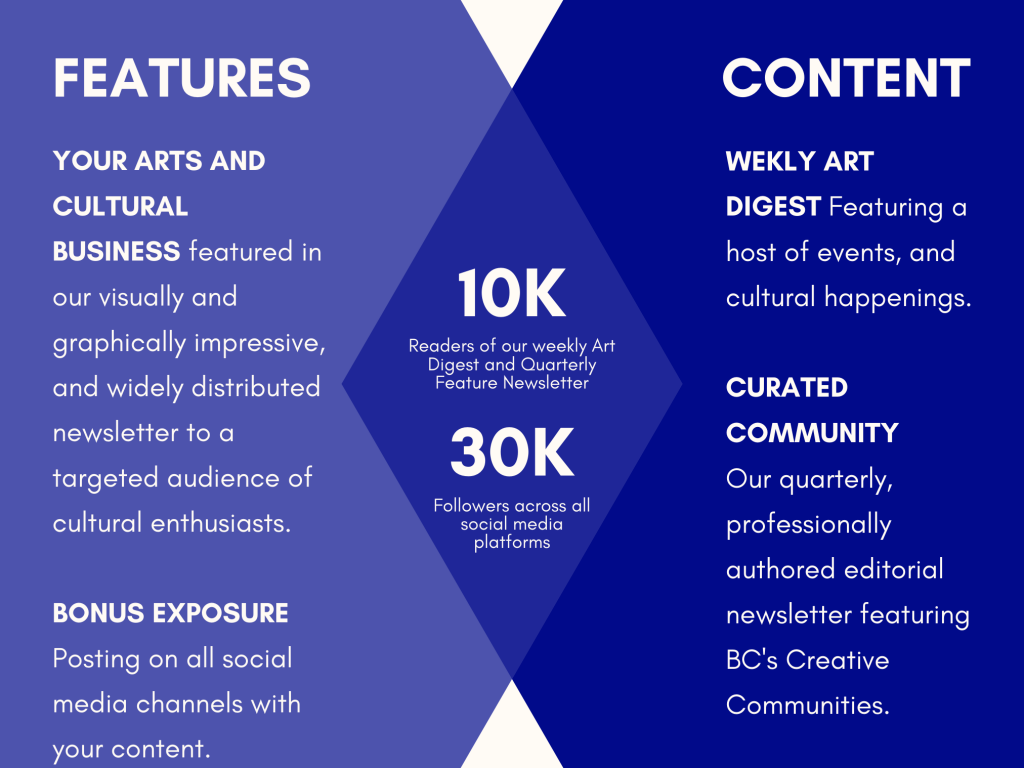 Weekly Arts Digest Feature $200

Feature your community/events in Weekly Arts Digest Newsletter, read by over 10,000 subscribers.

Curated Community $350

If you are interested in having your community appear as the featured community of the month, and you'd like to secure space as a sponsor, we'd love to hear from you to discuss your business as a cultural destination in your own Curated Community. Our newsletter is read by over 10,000 Subscribers!