Fringe Festivals are dedicated to promoting independent performers and artists while also providing opportunities for people from all walks of life to see cutting-edge theater and live performances at a low cost.
The Festival gets its name from eight theater groups who weren't invited to the Edinburgh International Festival in 1947. Despite not being invited, they still showed up and performed outside of the scheduled program. This earned them the name "The Fringe Of The Festival." More performers gradually followed their example, and in 1958, the Festival Fringe Society was formed. They gave artists an uncensored space to perform their craft, and the rest is history.
The Canadian Association of Fringe Festivals (CAFF) has defined five criteria under which fringe festivals should operate. These criteria are:
Participants will be selected on a non-juried basis through a first-come, first-served process, a lottery, or other method approved by the Association.
The audience must have the option to pay a ticket price, 100% of which goes directly to the artists.
Fringe Festival producers have no control over the artistic content of each performance.  The artistic freedom of the participants is unrestrained.
Festivals must provide an easily accessible opportunity for all audiences and all artists to participate in Fringe Festivals.
Festivals will promote and model inclusivity, diversity and multiculturalism and will endeavor to incorporate them into all aspects of our organizations.
Top Five Fringe Festivals Worldwide
Edinburgh Festival Fringe
Fringe World
Adelaide Fringe Inc.
Edmonton International Fringe Festival 
Brighton Fringe
The Vancouver Fringe Festival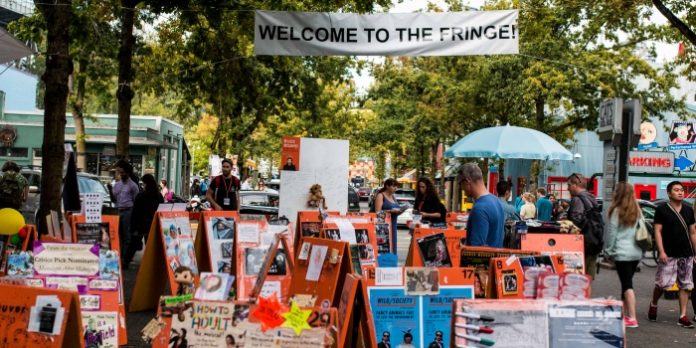 The Vancouver Fringe Festival is the event of a lifetime. It's consistently voted Vancouver's Best Arts Festival by Georgia Straight readers – and for a good reason. 
Artists get an opportunity to form a connection with the audience at the Fringe. It is an uncensored, judgment-free zone where everyone is welcome to perform. All proceeds from the event go towards the artists.
During the Vancouver Fringe Festival, mainstage events occur at the Revue Stage, Performance Works, and the Waterfront Theater, all located on or near Granville Island. The Bring Your Own Venue (BYOV) category allows artists to present original work in unique settings, such as site-specific sites in distinct indoor and outdoor settings.
It takes place over 11 days in September and attracts over 40,000 attendees. It is produced annually by the Vancouver Fringe Theater Society, with over 500 volunteers supporting 700+ performances and attracting over 40,000 attendees.
If you're in the area, it's a must-visit!
Art-BC is your cultural guide to Canada's province on the Pacific! Explore our website to find out everything you need to know about British Columbia's art scene.