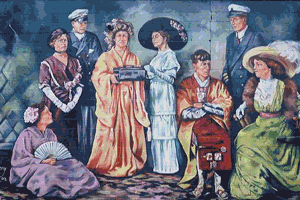 For this week's Creative Communities feature, we've compiled a list of some our favourite places to visit in Canada's four-season destination, Vernon! Vernon has a rich heritage that is abundant in arts and culture. Woven into the people and the city, this heritage lives through the live music, art galleries, live theatre, and the outdoor murals.
At over a century old, this heritage site is one of Vernon's oldest cultural destinations. Through talks, workshops, and exhibitions, Caetani Cultural centre is a space that encourages visitors to experiment, develop new ideas, and interact with fellow artists within the community.
Greater Vernon Museum and Archives
The diverse and colourful history of the North Okanagan is portrayed through a series of permanent and temporary exhibits, streetscapes, and dioramas at the Greater Vernon Museum. From the Allan Brooks Gallery, military displays, and showcases on aboriginal history, the museum has exhibitions that are sure to wow every visitor.
The Vernon Community Arts Centre is a community-oriented facility that provides a variety of classes and workshops for artists of all ages and levels. From studio drop-in sessions in their professional-grade clay studio, glass studio, and more, to a host of events and fundraisers throughout the year, the VCAC is always a bright and thriving environment.
In the heart of downtown Vernon, The Vernon Public Art Gallery is an important cultural fixture within the region. VPAG presents exhibitions from countless emerging, and renowned artists that specialize in a variety of media and mediums. Visit the largest public gallery in the North Okanagan, and their unique Gallery Shop for remarkable gift ideas.