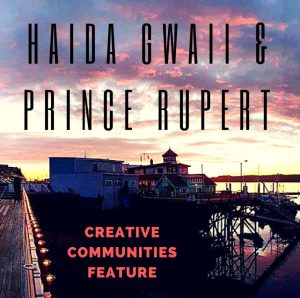 BC's North draws those that aren't afraid of the elements, those who are willing to get their hands dirty, those who understand that there is not bad weather, just bad clothing. If you're dressed right, the North is a year round playground. Take a trip to the island of Haida Gwaii and discover the preserved history of the Haida people whose arts and culture is still dynamically alive today. Spend a few days in Haida Gwaii and Prince Rupert and celebrate the unique arts and culture destinations of the region.
Surrounded by lush rain forest, this port town is home to charming historic buildings, independent galleries, funky shops, and restaurants. Prince Rupert is the spot where you'll experience a bustling mix of industrious and laid back daily life. Spend a few days here to celebrate the diverse arts and culture of the region. For a more comprehensive list of things to do, transportation, and more, visit the Tourism Prince Rupert website.
Prince Rupert's Crest Hotel
Prince Rupert's Crest Hotel is situated in the heart of downtown Prince Rupert. From its humble beginnings in 1961, the original 44 unit motel has evolved into a Four Star Canada Select property offering travelers 108 beautifully appointed guest rooms, many with stunning views of Prince Rupert Harbour. Experience the breath taking views of Prince Rupert's magnificent harbour, pristine mountains and soaring eagles. Book your stay at the Crest Hotel here.
The Museum of Northern BC is located in an amazing cedar longhouse-style building that overlooks the ocean. The museum offers guided tours that provide visitors the opportunity to explore over 12,000 years of history and culture on the northwest coast. Visitors are invited to observe First Nations artists working in the carving shed and to browse the spectacular selection of Northwest Coast First Nations carvings and jewellery in the Gift Shop. Visit the Museum's website for exhibition and event details.
The Haida Gwaii Museum at Kay Llangaay offers a fascinating look into Haida Gwaii culture from diverse perspectives. Explore Haida knowledge, scientific information, natural specimens, and oral history all blended together with the amazing art of the region. With fluid and constantly changing exhibitions, the Haida Gwaii Museum is committed to using art as a means of facilitating creative dialogue that encourages a holistic and critical exploration of the multiple, diverse ways to understand Haida Gwaii. To see what amazing things the museum has going on right now, visit their website for event and exhibition details.
Run by contemporary Haida artist Ben Davidson, All About U Arts is a gallery and workshop that specializes in Haida art, custom and traditional woodcarving, original and limited edition artworks in various mediums. With both traditional and contemporary art, visitors are welcomed to explore several thousands of years of history all through art. Head to Davidson's website and get a taste of some of the amazing works that his gallery represents.
Miles of temperate rainforest and rugged shores create an intensely wild environment and the Stillness of the land stands in stark contrast to the undulating surf of the Northern Pacific Ocean. Haida Gwaii and Prince Rupert offer fascinating studios, galleries and other rich arts destinations that represent the rich culture of this region. In Northern British Columbia, you will find a stimulating blend of old and new, surrounded by an unspoiled masterpiece: sparkling lakes, tumultuous rivers and never ending landscapes. Visit this creative community and create your own Northern BC adventure.