Places to See in BC's top family friendly beach destination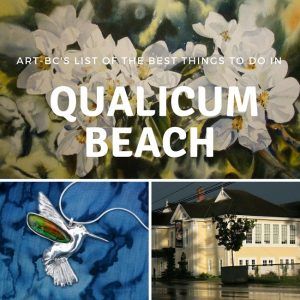 Qualicum Beach is renowned for celebrating its local arts and culture scene which makes it the perfect place for this week's Creative Communities feature! Here is a list of some of the Art-BC recommended places to visit in this beach city.
Amy Newsom Design
Striving to create signature pieces that will last a lifetime, Amy Newsom's gallery style cafe features unique designer jewellery and gemstones, ammonite fossils, healing stones, books, and handcrafted treasures by some of the Island's most sought after artisans. To thank visitors for the studio's 10th anniversary, Amy Newsom Design will be giving away monthly prize draws of Ammolite Jewellery from now through September with no purchase necessary! Stop in, enjoy a fresh cappuccino, learn about Canada's most precious gemstone, and surround yourself with the beautiful view of Mount Arrowsmith that surrounds Amy Newsom Design.
Raintree Studio and Gallery
This special gallery features almost 10 artists' at any given time so you are always sure to see beautiful watercolour and acrylic paintings, pottery, wood products, jewellery, floral designs and glass pieces. Next month the gallery is holding a 5-week workshop series every Wednesday and Thursday starting on March 21st. To take the workshop or do a drop in class visit during your travels, visit  www.raintreestudio.ca
Located in a heritage building that now houses an established public art gallery, and an art learning centre, The Old School House is a lively hub that prides itself on exhibit local and national talent. This month join The Old School House Arts Centre on February 27 7pm for The Rimski-Korsakov String Quartet direct from St. Petersburg, and Minneapolis great and Jazz Vocalist, Debbie Duncan. For this and other events, go to theoldschoolhouse.org for more details.
We hoped you enjoyed our list! Let us know what your favourite places in British Columbia's favourite beach town are, and make sure to tag @artbcguide in your next social media posts so we can repost all our favourite responses!